Bagdad's Rio Delgado (36) runs after a catch as the Sultans faced the Mayer Wildcats Friday night, Oct. 13, in a matchup of top 4 teams in the AIA 1A rankings in Mayer. Bagdad won the game 76-48. (Les Stukenberg/Courier)
Stories this photo appears in: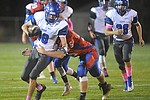 Bagdad's defending Arizona Interscholastic Association (AIA) 1A state champion football squad garnered the second seed and a first-round bye, while Mayer picked up the fifth seed and will play host to an opening-round contest in the 12-team state tournament on Saturday, Oct. 21.