New England Patriots fans have burned team gear in protest after a number of players kneeled during the national anthem before their Sept. 24 game against the Houston Texans in Foxborough, Mass. According to a recent poll, 52 percent of Americans disapprove of professional athletes who have protested by refusing to stand during the national anthem, compared to 31 percent who approve. (AP Photo/Michael Dwyer, File)
Stories this photo appears in: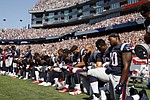 WASHINGTON — Most Americans think refusing to stand for the national anthem is disrespectful to the country, the military and the American flag. But most also disapprove of President Donald Trump's calling for NFL players to be fired for refusing to stand.