Former football legend O.J. Simpson signs documents at the Lovelock Correctional Center, Saturday, Sept. 30, 2017, in Lovelock, Nev. Simpson was released from the Lovelock Correctional Center in northern Nevada early Sunday, Oct. 1, 2017. (Brooke Keast/Nevada Department of Corrections via AP)
Stories this photo appears in: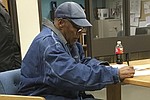 Former football legend O.J. Simpson became a free man again Sunday after serving nine years for a botched hotel-room heist in Las Vegas that brought the conviction and prison time he avoided in the killings of his ex-wife and her friend after his 1995 acquittal in the "trial of the century" in Los Angeles.