Plastic tanks such as this one are the most common containers used for rainwater harvesting. (Courier file)
Stories this photo appears in: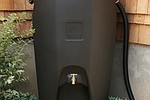 There have been a number of discussions recently concerning uncontrolled building development in the Prescott area, and the impact on our limited water supply. Rainwater harvesting has been put forward as one of many potential solutions.
By Paul Scrivens, Special to the Courier
November 17, 2017