File photo of a baby tiger python. Police in Germany said a 19-year-old was detained last week after a loud argument with another man disturbed residents. He was searched and officers noticed "a significant bulge in his trousers" that turned out to be a 14-inch baby king python snake hidden in his pants. (2002 AP File Photo/MTI, Tibor Olah)

Stories this photo appears in: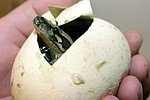 A young man detained by police during a drunken argument in Germany was found to be carrying a baby python in his pants, and may be in trouble under animal welfare laws.