A close up of Captain Kirk's wax likeness from the now out of business Movieland Wax Museum in Buena Park in a hangar at Fullerton Airport in Fullerton, Calif. Steven Greenthal and Chris Liebl are donating the figures to the Hollywood Science Fiction Museum. The figures are being restored for a five-year tour to raise money to get the museum a permanent home.
Stories this photo appears in: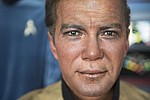 The starship Enterprise has a new five-year mission: to boldly go and raise money to help a quirky museum live long and prosper.