In "El Gato Azul," local artist Thatcher Bohrman depicts his wife Meg Bohrman sleeping, with a blue cat perched on her back. The painting is one of Bohrman's pieces currently on display at 'Tis Art Center & Gallery.
Stories this photo appears in: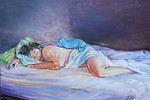 Twisted Roots will be on display at 'Tis through July 14, and the two artists will be on hand for the 4th Friday Art Walk reception from 5 to 8 p.m. June 23.