Caitlyn Ballard and Brandon Celaya make it through a mud pit during a previous Chino Mudder. This year's event is set for Aug. 26. (Les Stukenberg/Courier)
Stories this photo appears in: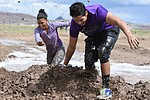 The Chino Mudder, a 5K (3.1 mile) obstacle course over cross-country terrain, is for the physically tough who can make their way through, over and under 22 military-like impediments.