PSPRS Communication Director Christian Palmer gives background during a PSPRS town hall meeting in Prescott Wednesday, July 26. (Les Stukenberg/Courier)
Stories this photo appears in: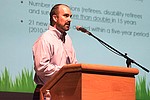 The good news: 2017 is perhaps the last year that the City of Prescott's unfunded liability with the Public Safety Personnel Retirement System (PSPRS) will grow. The bad news: The city's level of debt in the public safety pension system now totals about $86.4 million — up nearly $8 million from the $78.5 million liability in the previous year.
In the eyes of opponents of Prescott's Proposition 443, a sales tax increase will do nothing more than deal temporarily with the city's budget issues.