The proposed mine, a small-to-midsized quarry-type operation, will encompass 76 of the 164 acres of public lands. According to Kirkland Mining Company officials, no blasting or use of chemical processing will take place on the property.
Stories this photo appears in: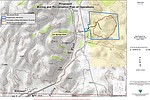 The Bureau of Land Management (BLM) Hassayampa Field Office invites the public's comments on an updated Draft Mining and Reclamation Plan of Operations and Draft Environmental Assessment (EA) for the proposed high-quality pozzolan mine on about 88 acres of public lands in Skull Valley.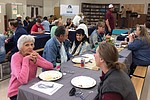 The U.S. Bureau of Land Management has received results of scientific tests indicating there is no erionite or harmful asbestos-like materials present on the proposed pozzolan mine in Skull Valley.
Since the turn of the last century, seven previous mining operations have used the site of the proposed Kirkland High Quality Pozzolan Mine near Skull Valley.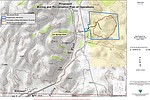 The early stages of scoping means the public can offer comments about upcoming projects, and already residents of Skull Valley have loudly expressed four concerns over the proposed mining of pozzolan: dust, noise, water and traffic.