In this Dec. 2013 file photo U.S. Rep. Paul Gosar, R-Ariz., speaks during a Congressional Field Hearing on the Affordable Care Act in Apache Junction.
Stories this photo appears in: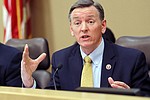 Paul Gosar was elected to represent the people of this district as our representative in Washington, D.C. His words and actions reflect on all of us.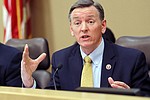 An Arizona congressman is defending his decision to block some followers of his official Facebook page, saying in a post on the social media site that, "I don't care" if people he blocks are upset.