A robot waitress serves food to customers at a pizza restaurant in Multan, Pakistan, Thursday, July 6, 2017. A Pakistani engineer says sale of Pizza at his father's shop has doubled in recent months after he introduced first ever robot to serve food to customers in the central city of Multan. (AP Photo/Iram Asim)
Stories this photo appears in: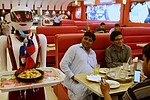 The owners of a pizza shop in Pakistan say business is booming now that they've introduced a robot waitress.