Lots of inflatables, food and live music were available during the 2016 Fourth of July festivities on the Prescott Mile High Football field in downtown Prescott.
Stories this photo appears in: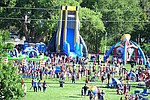 The City of Prescott Fourth of July Independence Day activities will take place as scheduled from noon to 9 p.m. at Mile High Middle School.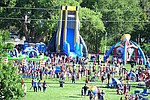 As a way to commemorate Prescott's 19 fallen Granite Mountain Hotshots, Prescott's July 4 fireworks display will kick off with a new feature this year — 19 separate purple comets, followed by 19 silver salutes in unison.