Highway conditions can deteriorate quickly during severe weather as snow accumulates and drivers struggle, and closures can happen suddenly and be prolonged.
Stories this photo appears in:
Both directions of Interstate 40 and southbound US 93 are closed in Kingman because of snow, ice and multiple disabled vehicles, according to the Arizona Department of Transportation.
The Arizona Department of Public Safety is advising drivers to put off any trips to northern Arizona as major snowstorms are hitting.
By Staff and AP Wire reports
January 21, 2017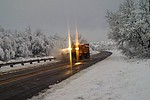 With two winter storms forecast to blanket Arizona's high country with as much as 24 inches of snow between Thursday and Saturday, motorists should be prepared for hazardous driving conditions, delays and possible highway closures – and consider delaying travel during the worst weather.
By Special to the Courier
January 19, 2017