Mardi Read talks with Joe Howard about the upcoming Prescott Unified School District Board Retreat Thursday morning. Read said Howard has been her mentor since 2002.
Stories this photo appears in: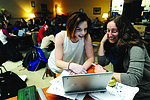 From our earliest moments, we are molded, educated and inspired by the people who enter and touch our lives: parents, grandparents, siblings, friends, neighbors, teachers, bosses, and community leaders.