After a series of storms last week, the Prescott Valley Public Library had to put out buckets to catch the water leaking from the roof. The town filed a lawsuit this week to try to get the leaks repaired.
Stories this photo appears in: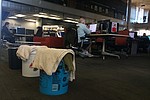 The Town of Prescott Valley filed a lawsuit seeking damages against the architect and construction contractor for the joint facility that houses the library, auditorium, public meeting room and classrooms and offices leased by Northern Arizona University on Tuesday, Jan. 30, according to a news release from Prescott Valley Communications Relations Coordinator Heidi Dahms Foster.
By For the Tribune
February 1, 2017