Fancy That! collects a $10 donation for each scarf and all the money will go to the Acker Scholarships. (Courtesy)
Stories this photo appears in: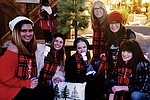 Garrison Keillor performing at YC in February despite recent allegations Yavapai College Performing Arts Center (YCPAC) has announced that renowned storyteller and former "Prairie Home Companion" host Garrison Keillor is still on its 2017-18 season schedule despite him recently being accused of inappropriate behavior in the workplace.