Participants of the first 24-Hour Play Festival posed with a prop of choice last year during auditions.
This year's auditions begin at 7 p.m. Friday, Aug. 18, at Prescott Center for the Arts' Mainstage. (PCA/Courtesy)
Stories this photo appears in: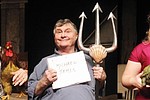 Six 10-minute plays will be cast, written, rehearsed, and performed in only one day's time for the second annual 24-Hour Play Festival set for Aug. 19 at the Prescott Center for the Arts (PCA).