FILE - In this July 28, 2014 file photo, lightning strikes over Lake Mead near Hoover Dam at the Lake Mead National Recreation Area in Arizona. Federal water managers are due to release a crucial report Tuesday projecting whether Arizona and Nevada will face restrictions next year and in 2019 on drinking water supplies from the Lake Mead reservoir on the Colorado River. (John Locher/AP, File)
Stories this photo appears in: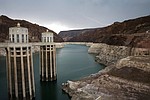 Heavy winter snows in the Rocky Mountains have rescued the thirsty Western U.S. for another year.