In this March 30, 2017 photo provided by Queensland state paramedic Lisa Smith, a shark is seen stranded in floodwaters in Ayr, northeastern Australia. A powerful cyclone that tore through Australia's tropical northeast has left the ground littered with battered trees, ripped-up roofs - and one very unlucky shark. Smith said she was assessing the extent of flooding on Thursday on Rita Island, a coastal community near the town of Ayr that was lashed by Cyclone Debbie earlier this week. As she was approaching the edge of some receding floodwaters, she spotted an unusual sight on the ground: a bull shark.
Stories this photo appears in: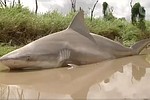 An Australian journalist covering flooding from Cyclone Debbie was shocked to come across a dead bull shark that was apparently swept up in the deluge.