Surveillance images showed Tad Cummins and Elizabeth Thomas at a Walmart in Oklahoma City on the afternoon of March 15.
Stories this photo appears in:
A 15-year-old Tennessee girl was rescued near a cabin in a remote part of northern California on Thursday, more than a month after her 50-year-old teacher kidnapped her and set off a nationwide manhunt, authorities said.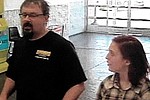 There's been a confirmed sighting in Oklahoma of a 15-year-old girl who disappeared more than two weeks ago with her 50-year-old teacher, Tennessee authorities said Friday.