State Rep. Noel Campbell, R-Prescott, speaks to the Prescott City Council on Tuesday, Sept. 27, about the ordinance proposed for sober-living homes. Campbell sponsored the bill that led to the state law that gave cities and towns the authority to more strictly regulate structured sober living homes.
Stories this photo appears in: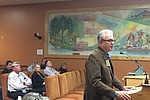 Despite reservations by City Attorney Jon Paladini about requiring around-the-clock supervision at local sober-living homes, the Prescott City Council appeared to lean toward including the provision in the city's new ordinance.