Jenn Winters (Ashcraft) puts the finishing touches on a fire hydrant tribute to the Granite Mountain Hotshots in 2015. Winters was in New York City and witnessed the planes flying into the World Trade Center Towers. She got caught in the crush of humanity running from the towers.
Stories this photo appears in: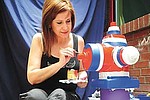 For a time, it felt like the attack that shattered America had also brought it together. After Sept. 11, signs of newfound unity seemed to well up everywhere, from the homes where American flags appeared virtually overnight to the Capitol steps where lawmakers pushed aside party lines to sing "God Bless America" together.
By By JENNIFER PELTZ, Associated Press and SCOTT ORR, The Daily Courier
September 11, 2016