Empty Bowls patrons choose their soups at the 2015 event. This year's Empty Bowls is Sunday, Sept. 11.
Stories this photo appears in: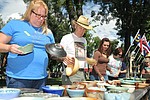 Volunteers have made the Empty Bowls event a success for the past 18 years. This year proves to be yet another fun and fulfilling opportunity to help keep local food banks stocked and at the same time enjoy two bowls of gourmet soup and take home a handmade soup bowl.