In this Nov. 8, 2015, file photo, San Francisco 49ers quarterback Colin Kaepernick stands on the field during an NFL football game against the Atlanta Falcons in Santa Clara, Calif. Kaepernick's protest of the national anthem over what he describes as oppression of minorities in the United States is apparently winning support from some veterans on Twitter under #VeteransForKaepernick. Kaepernick said he'll continue the protest during San Francisco's preseason game at San Diego on Thursday, Sept. 1.
Stories this photo appears in: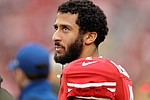 NEW YORK — NFL Commissioner Roger Goodell disagrees with Colin Kaepernick's choice to kneel during the national anthem, but recognizes the quarterback's right to protest.