Roadside memorials, such as this one on Outer Loop Road marking the spot where three family members died in October 2013, may be allowed to remain, forever, under new rules issued by the Department of Transportation.
Stories this photo appears in:
The issue of roadside memorials seems to never go away.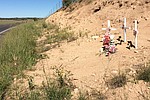 Crosses mark the place along Outer Loop Road near Williamson Valley Road where three members of the same Chino Valley family were killed in an October 2013 head-on collision.
By Staff and Capitol Media Services
September 7, 2016