Carol Fontana and "Tiki" scout one of the segments of the Arizona Trail. They will tackle the 800-mile adventure with a straight-through ride, a first for the grueling border-to-border trail.
Stories this photo appears in: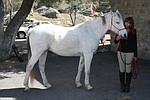 Carol Fontana and Tiki Barber's SaddleUp! Ride, a journey across the entire Arizona Trail, kicked off at the Prescott Rodeo Grounds on Sunday, March 13.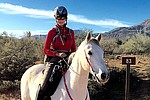 "Tiki" is going on the ride of his life, a two-month trip that will take him over 800 miles from Mexico to the Utah border.