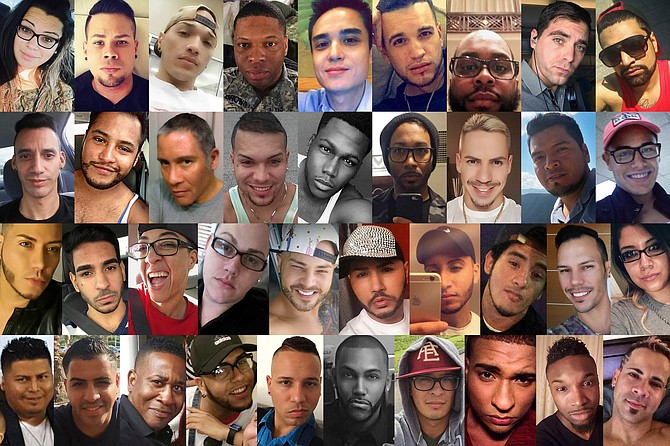 This combination of photos shows some of the dozens of those killed in a mass shooting early Sunday, June 12, 2016 at the Pulse gay nightclub in Orlando, Fla. Top row from left are: Amanda Alvear, Angel L. Candelario-Padro, Anthony Luis Laureano Disla, Antonio Davon Brown, Christopher Leinonen, Christopher Joseph Sanfeliz, Darryl Roman Burt II, Edward Sotomayor Jr. and Enrique L. Rios, Jr. Second row from left are: Eric Ivan Ortiz-Rivera, Frank Hernandez, Franky Jimmy Dejesus Velazquez, Gilberto Ramon Silva Menendez, Jason Benjamin Josaphat, Javier Jorge-Reyes, Jean Carlos Mendez Perez, Joel Rayon Paniagua and Jonathan Antonio Camuy Vega. Third row from left are: Juan P. Rivera Velazquez, Juan Ramon Guerrero, Kimberly Morris, Leroy Valentin Fernandez, Luis D. Conde, Luis Daniel Wilson-Leon, Luis Omar Ocasio-Capo, Luis S. Vielma, Martin Benitez Torres and Mercedez Marisol Flores. Bottom row from left are: Miguel Angel Honorato, Oscar A Aracena-Montero, Paul Terrell Henry, Peter O. Gonzalez-Cruz, Rodolfo Ayala-Ayala, Shane Evan Tomlinson, Simon Adrian Carrillo Fernandez, Stanley Almodovar III, Tevin Eugene Crosby and Xavier Emmanuel Serrano Rosado.
Stories this photo appears in: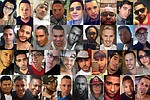 A gunman wielding an assault-type rifle and a handgun opened fire inside Pulse, a crowded gay nightclub in Orlando, Florida, early Sunday, leaving at least 49 people dead in the worst mass shooting in modern U.S. history.