American League's Zach Britton, of the Baltimore Orioles, greets American League's Matt Wieters, of the Baltimore Orioles, after the MLB baseball All-Star Game, Tuesday, July 12, in San Diego. The American League won 4-2.
Stories this photo appears in: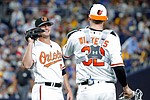 David Ortiz is set to get booed at Yankee Stadium, Chris Sale is ready to resume striking out Kris Bryant and the Kansas City Royals are facing a rugged road back to the playoffs.