Travelers wait in a security line at O'Hare International Airport Friday, Jan. 22, 2016 in Chicago. Airlines at Chicago's two major airports have canceled 215 flights largely due to a blizzard threatening down on the East Coast. (AP Photo/Teresa Crawford)
Stories this photo appears in: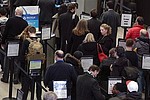 After cancelling nearly 7,000 weekend flights, airlines have started to cut Monday service.