Arizona Diamondbacks' Paul Goldschmidt arrives at home plate as the team celebrates his walk off home run against the Atlanta Braves during the ninth inning of a baseball game Monday, Aug. 22, in Phoenix. The Diamondbacks defeated the Braves 9-8.
Stories this photo appears in: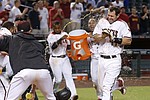 Paul Goldschmidt hit a solo homer in the ninth inning to lift the Arizona Diamondbacks over the Atlanta Braves 9-8 on Monday night.