Investigators work the scene of Saturday's hot air balloon crash near Maxwell, Texas, Sunday, July 31. A hot air balloon made contact with high-tension power lines before crashing into a pasture in Central Texas, killing all on board, according to federal authorities who are investigating the worst such disaster in U.S. history.
Stories this photo appears in: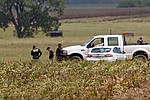 LOCKHART, Texas — The pilot of a hot air balloon that crashed in Texas and killed all 16 people aboard was arrested in Missouri in 2000 for driving while intoxicated, and the Better Business Bureau warned consumers about doing business with a balloon touring company he used to operate in that state.