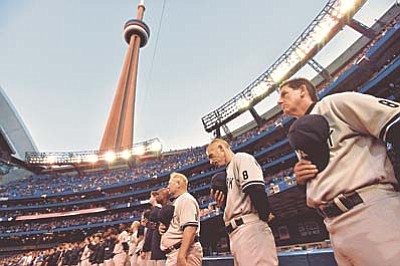 New York Yankees manager Joe Girardi, second from right, and players and coaches take part in a moment of silence as they wear the No. 8 to remember Hall of Fame catcher Yogi Berra, who died Tuesday, before the Yankees' baseball game against the Toronto Blue Jays in Toronto on Wednesday, Sept. 23, 2015. (Nathan Denette/The Canadian Press via AP)
Stories this photo appears in: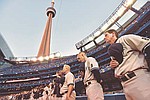 TORONTO (AP) - No matter what off-the-field problem Alex Rodriguez might have been facing as a new spring training began, he knew he could count on Yogi Berra.