This undated photo provided by Vern Yip shows Yip at his home in Atlanta with his family and dogs. Families with pets have several options for durable, attractive flooring that will stand up to even the most rambunctious pets, including wood flooring with finishes that resist scratching from claws and waterproof ceramic tile designed to look like stone flooring. (David A. Land/Vern Yip via AP)
Stories this photo appears in: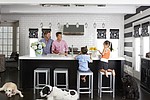 It's gotten easier to have a house full of pets without sacrificing the home decor you want.
By Melissa Rayworth, The Associated Press
July 7, 2017