Les Stukenberg/The Daily Courier
Shannon and John Skurja pose outside their Prescott location of Skurja Art Castings where they and their staff make bronze works for themselves and artists from around the country.
Stories this photo appears in: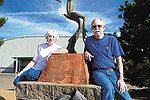 When the Shanghai Disneyland opens at the end of 2015, it will be the sixth Disney theme park in the world. It will join the ranks of the Disneylands in California, Paris, Tokyo, Hong Kong and the Disneyworld in Florida. And, at each of Disney's parks are a number of life-size bronze statues placed in key locations - cast right here in Prescott at Skurja Art Castings, 1056 Spire Drive.