Yavapai Humane Society's Spay/Neuter and Wellness Clinic's team works hard to provide the best of care for the 47 feral cats that were given spay/neuter surgeries in recognition of National Feral Cat Day. From left to right are Stephanie Ekdahl, Dr. Katrina Vanesian, Kitty Clark and Katie Hawkins. (Courtesy photo)
Stories this photo appears in: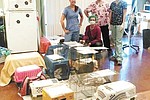 PRESCOTT - Yavapai Humane Society performed 47 free spay and neuter surgeries to local feral cats at its Spay/Neuter and Wellness Clinic Thursday, Oct. 15.