Editor Robin Layton was surprised by how may Courier readers responded to her May 24 editorial about how Dr. Seuss might have liked a drive down Highway 69. (WNI illustration)
Stories this photo appears in: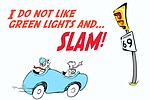 I wrote an editorial about the traffic light issues on Highway 69 the other day. I was surprised how many people responded personally and online.