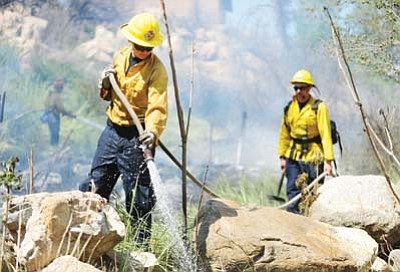 Les Stukenberg/PNI file. firefighters extinguish hotspots in a small wildland fire on April 20 near the trail system on the west side of the Laguardia Bridge in downtown Prescott. Officials are working to fix their pension system, which would require voter approval.
Stories this photo appears in:
PRESCOTT VALLEY - In a presentation to area fire, police, and municipal officials on Wednesday, May 13, the president of the Professional Fire Fighters of Arizona (PFFA) described a sweeping plan to bring solvency back to the state's faltering public service pension fund.
By Scott Orr
May 14, 2015