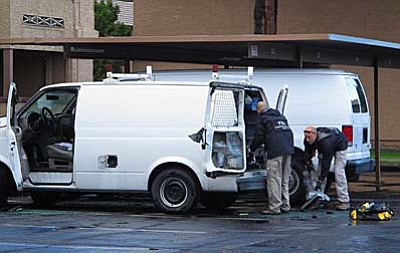 FBI investigators search a vehicle, Monday, May 4, 2015, in Phoenix, believed to belong to one of two gunmen who were shot and killed the night before outside a venue hosting an exhibit about the Prophet Muhammad in suburban Dallas. Garland, Texas, police officer Joe Harn says the men had opened fire with assault rifles, and that one officer had fatally shot both gunmen. (AP Photo/Brian Skoloff)
Stories this photo appears in:
FBI agents in Phoenix are now looking at a second vehicle parked at the complex apartment where a unit is being searched as part of the investigation into a shooting outside a Prophet Muhammad cartoon contest.