Les Stukenberg/The Daily Courier, file
Rich and Sue Cottine check out the selection of Navajo rugs being auctioned in the 2012 Smoki Museum Rug and Art in Prescott. This year's event is Saturday, March 21.
Stories this photo appears in: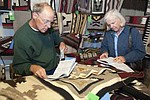 There's nothing quite like the feeling of being the highest bidder on a prized item, especially when that item is vintage. And a rug. On Saturday, March 21, the Smoki Museum will have its annual Spring Navajo Rug and Indian Art Auction, now in its 17th year, the auction is a fundraiser for the museum.