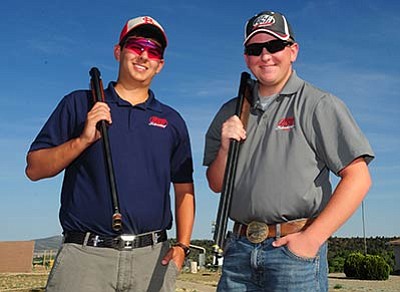 Les Stukenberg/The Daily CourierColton Underwood, right, and Joe Witty are 2/3 of the 2015 Arizona SCTP State Skeet Champions. Missing is Cole Parrish, who was at soccer practice during this shooting practice.
Stories this photo appears in:
Competitive skeet shooting requires physical strength and an abundance of aptitudes - mental focus, timing, and accuracy among others - to fire a shotgun and shatter dish-shaped targets approximately 4-¼ inches in diameter zooming up to 60 miles per hour in different directions, heights, and distances - sometimes two at a time - as the shooter moves around eight stations aiming at 24 targets in a prescribed order.
By By Ed Wisneski
June 28, 2015