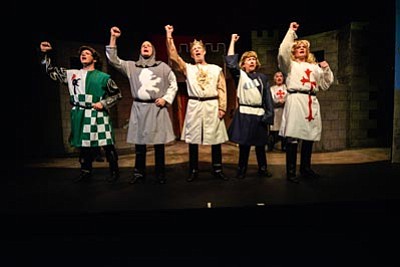 L-R Sir Robin (J. C. Lawler), Sir Lancelot (Nathan Wiggins), King Arthur (Greg Fine), Sir Bedevere (Bill Haas) and Sir Galahad (Austin Olsen) (Courtesy photos)
Stories this photo appears in: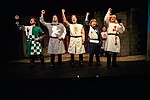 Eric Idle's "Spamalot," directed by Bruce Lanning and starring Greg Fine, Kate Howell, Julian Jenney, J.C. Lawler, Nathan Wiggins, Austin Olsen, Bill Hass, Isaac B. White, Doug Suits, Clint Slay and Logan Olson has opened at the Prescott Center for the Arts as its final show of the season. Based on the film, "Monty Python and the Holy Grail," the show is hilarious and just plain fun to watch.