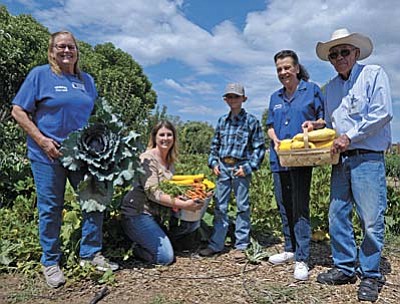 Matt Hinshaw/The Daily CourierFrom left, Lynn Passfield with Yavapai Food Bank, Sharla and Kolten, 11, Mortimer, Robert Wilson, president of the food bank, and Anne Wilson, executive director of the Yavapai Food Bank stand together Wednesday morning at Mortimer Farms in Dewey-Humboldt. Mortimer Farms is having a benefit dinner on August 1 for the Food Bank asking each patron to bring a non-perishable food item (per person) and $4 for the dinner.
Stories this photo appears in: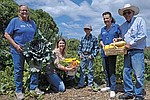 A benefit dinner for Yavapai Food Bank takes place at 6 p.m. on Saturday, Aug. 1, at Mortimer Family Farms, located on the southeast corner of Highways 69 and 169 in Dewey-Humboldt.