Convergent ladybird beetle (Hippodamia convergens) on apple leaf consuming aphids (Photo by Jeff Schalau)
Stories this photo appears in: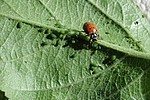 Arizona's insect diversity is incredible. In fact, they are the most common animals on our planet. More than 1.5 million species of insects have been named, which is three times the number of all other animals combined. Each year, new insect species are discovered. About 1 percent of the total species of insects are considered pests and negatively impact plant or animal health. The remaining 99 percent are either beneficial or benign.
By Jeff Schalau
July 10, 2015