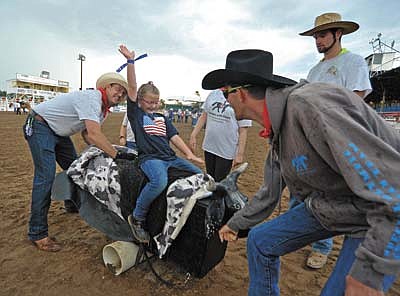 Matt Hinshaw/The Daily CourierJoeli Knott, 7, rides a bull while Horses With Heart volunteers Jeremy Owns, right, and Josh Lindeblom rock the bull back and fourth and fellow volunteer Koty Dudman, back right, looks on Monday evening during the Happy Hearts Rodeo for Exceptional Children, before the first performance of the Prescott Frontier Days, the "World's Oldest Rodeo" at the Prescott Rodeo Grounds.
Stories this photo appears in:
PRESCOTT - Seven-year-old Jolie Knott's blonde braid tied in a red, white and blue ribbon bobbed up and down as she rode a hand-operated bucking steer, "Wooly Bully,' in the Prescott Frontier Days rodeo arena.The raindrops dampening her blue jeans didn't give her pause. She was all about the jerky ride."I'm not scared ... I feel like a real cowboy,' Jolie declared as she stepped off the miniature replica bull.