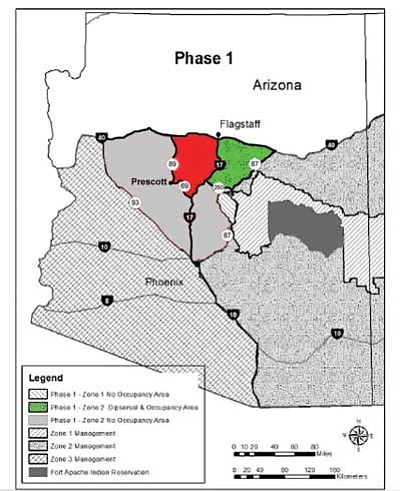 Courtesy USF&WS;The green on this map is part of the Phase 1 area where wolves can naturally disperse into a region including northeast Yavapai County for the first time starting Feb. 15. Wolves will be able to live in the red area that includes more of Yavapai County in Phase 2 after 5-12 years. By Phase 3 they could live anywhere south of Interstate 40.
Stories this photo appears in: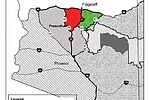 If an endangered Mexican gray wolf wanders into the northeast corner of Yavapai County after Valentine's Day, U.S. Fish and Wildlife Service officials will let it stay.A new rule that Fish and Wildlife is publishing today will take effect on Feb. 15, and it eventually expands by 21-fold the areas where the wolves can roam in Arizona and New Mexico without being captured and moved. It replaces a 17-year-old rule.