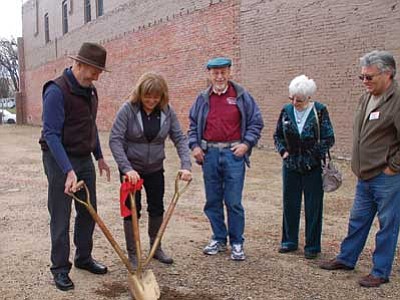 Cindy Barks/The Daily Courier
Property owners Howard and Nancy Hinson, above, take the first shovelful of dirt Monday morning on the Holiday Courtyard project, planned for the site of the 2012 Whiskey Row Fire, while Tim Graham, right, and Prescott Chamber ambassadors/volunteers Don and Annette Schiller look on.
Stories this photo appears in:

PRESCOTT - No sooner had the lot been cleared of the groundbreaking ceremony Monday morning than the real breaking of ground began on the site of the May 2012 Whiskey Row fire."We're starting today," said Jodi Savage of Savage Development, as the backhoe that was standing by came to life.