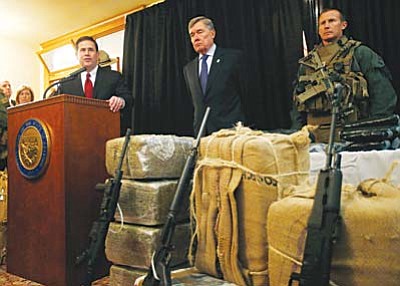 AP Photo/Ross D. FranklinWith seized drugs and weapons from border-crossing drug smugglers, Arizona Gov. Doug Ducey, left, speaks at a news conference after testifying at a field hearing of the U.S. Senate Homeland Security and Governmental Affairs Committee at the Arizona Capitol Nov. 23 in Phoenix. R. Gil Kerlikowske, center, commissioner of the U.S. Customs and Border Protection, listens in during the news conference.
Stories this photo appears in: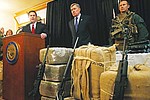 The Arizona Sheriff's Association, which represents the sheriffs of the state's 15 counties, on Monday sent an open letter to Gov. Doug Ducey objecting to Ducey's Border Strike Force proposal because it relies on money taken from county governments and simultaneously gives more work to the already-overburdened Department of Public Safety.