This undated photo provided by Mary Meyer shows a soft owl-themed mat which makes a comfy nap and play spot. Today's new moms want their baby's room and gear to reflect their own design aesthetic. The Putty collection of soft plush from Mary Meyer comes in chic, neutral hues of grey, cream and blush. New technology has yielded a range of microfibers much finer and silkier than in the past, amping up the tactile appeal of plush for toys and blankets. (Mary Meyer via AP)
Stories this photo appears in: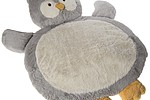 The recent industry show Toy Fair New York featured a variety of huggable plush toys for everyone, from silky, infant comfort objects to cheeky stuffed novelties for grown-ups.
By Kim Cook, The Associated Press
March 10, 2017