This undated photo provided by Kristina Crestin shows an outdoor space in Essex, Mass., designed by Crestin. This summer entertaining space can easily be used during colder fall weather with the help of a large fire pit. Crestin strategically located the fire pit so that some guests could enjoy it while relaxing in chairs while others can cluster around it while standing on the lawn. (Kristina Crestin via AP)
Stories this photo appears in: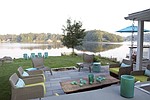 Outdoor decorating often focuses on turning decks, patios and porches into summer destinations. But some people love their outdoor entertaining space even more when the weather turns colder.
By Melissa Rayworth, The Associated Press
October 7, 2016